DRR Grayer in enjoying a snack with mom, Rachel
My name is Nell Howe. I am a licensed Veterinary Technician in the State of Maine and have been licensed since 1994. I graduated from the University of Maine - Orono in 1993 with an Associates Degree In Animal Medical Technology. I have worked for several veterinarians and 2 separate animals shelters over the course of my career so far. I am very familiar with the proper care and treatment of small animals as well as the signs and symptoms of healthy vs. sick animals.
During the time that I worked at the animal shelter, I saw my fair share (unfortunately) of sick, debilitated, abused and malnourished small pets as a result of mistreatment or irresponsible breeding. It is my personal and professional opinion, based upon what I have experienced, that none of Betty's animals fall into any of these categories.
I purchased 4 rats from Betty in October 2004. All from various litters. All were in good health when I picked them up from Betty and have continued to be healthy since then. All rats were received in excellent condition. They had clean shiny coats, bright clear eyes, no signs of sneezing or congestion, good muscling and body condition, all were eating/drinking/urinating/defecating normally, had excellent attitudes and temperament, all were bright/alert/curious/friendly. All had obviously been handled from a young age and were used to human contact and seeked it out. All were confident to varying degrees (based upon their individual personalities of course) and perfect little socialized pets from day one. I consider Betty to be a responsible breeder and would definitely buy rats from her again and recommend her highly to anyone in the market for a rat. I would also like to add that I am providing this information on my own accord will and am not being compensated in any way, shape or form for my endorsement of Betty Sabine and Darling Road Rodentry. Please do not hesitate to contact me, as I would be more than happy to answer any and all questions. Thank you. jackrusl@megalink.net
The 2 rescued girls from Summer '07; Pauby & Bella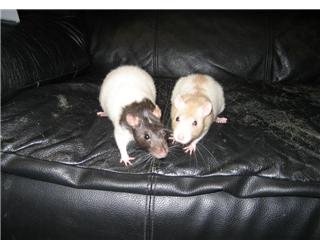 Here they are relaxing on their daddy Lee's sofa!
Hello, I would liked to be considered as a personal reference for Betty. She is nothing but caring and knowledgeable about her pets, she not only provides adequate care and shelter to them, she personally spends quality time with all of her pets. I met her on the Internet and had no idea at the time we were practically neighbors! We met in person numerous times and had many dealings. She is always a pleasure to deal with and up front and honest, which is hard to find in this world. She is a tenderhearted young woman with only the best of intentions. I have purchased several rats as well as birds from her and they were in perfect health. The one time I heard she had a sick pet, she had contacted me (I am an LVT) as well as her regular vet to get medicine. The animal recovered completely. Her dogs are well taken care of also and loved. Please feel free to contact me for any more information that may be useful. Thanks for your time,
Sincerely, Dani Jording, LVT
iampetcrazy@adelphia.net
I am honored to be Betty's ratty veterinarian! My first introduction to Betty and her rats was when she brought in over 40 young rats for examinations. They were a uniformly healthy and well-socialized group of rats. I am pleased to be able to recommend Betty as a source for happy, healthy rats to my rat-loving clients. After examining Betty's newest crop of young rats, I
decided to adopt two rat mascots for my veterinary hospital. We acquired "DRR Lola," a beige half-mask dumbo female, and "DRR Merlin" a black silvered berkshire male. What gorgeous rats! I spayed Lola and castrated Merlin, and they are now living together in perfect harmony. My staff and I derive a lot of enjoyment out of just watching them and interacting with them. We proudly show Lola and Merlin off to our clients, rat lovers and rat skeptics alike!

Signed, Dr. Katherine Carter
River Road Veterinary Hospital, Orrington, Maine.
www.riverroadvet.com
Here are Chris' new boys exploring their new home!
I am very happy to have these lovely boys in my home, so thanks again for
providing them. :)

--Rachel

Hi,

My name is Maria, and late last spring I approached Betty about her rats. She was very helpful, put me on her waiting list, and answered a summerful of ratty questions! I got Pillage, Burn, and Bloo from Rainy and Icyy's litter, and they are the sweetest rats I've ever had-of course, I am a first-time rat owner, but I couldn't wish for better. Pillage and Burn are Toprats, which makes it easier to have them about when I am doing chores. I will definitely be getting rats in the future from Betty!

~Maria
DRR Filius in his new home with Rachel
The crazily energetic DRR Whippet owned by Susan
The boys are doing great! They are so adorable! Even my roommate (who was very opposed to rats because "they're icky!") is in love with them, she might get some herself. If she does, Ill know where to send her. Ill keep you updated! Thanks for everything and all the help!
--- Alee
Hi! They are doing very well. Just a bit nervous and very curious about their new home. I've been trying to give them as much time as possible around the house, out of the cage, and they seem quite happy. My girlfriend and I are holding off on names until they get over their initial nervousness, so we get an idea of their personalities. :) We can tell already that they are going to be a great addition to our family. I let them explore my desk, but as you can see, they were feeling a little shy. I'll send a few more your way once they have some time to settle in (I feel guilty for hitting them with the flash). Thanks again for everything, especially meeting me in Old Town. I'm really happy that I was able to get them home today. -Chris
DRR Zion acting so surprised! Owned by Ashley M.
The adorable obedient DRR Sapphire owned by Susan.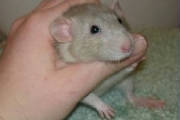 Just wanted to give you an update on the boys- They're all neutered now, too, and doing great. Hudson (the bluebeige) and Kalven (the hairless) are such sweethearts. Kalven just wants to sit on my shoulder and hang out, constantly. Hudson just wants to be out and about all the time. They're very playful too, and get along great with each other and the other boys. Finnley (one of the blue capped boys) is always very curious and wants to be involved in everything that Hudson and Kalven are doing..but he's still a little nervous. He's getting more and more confident though. His brother, Gilbert, is a little shy, but he, too, is getting used to me. Winston (the black Irish) and Glance are getting much better. They're a little nervous to come OUT of the cage, and still a little nervous with me, but they're still very sweet. And once I put them back in the cage, they jump up at the door to come back out. They just need to become a little more sure of themselves, I think. Harry (the dalmation) has made the biggest improvment. Although he is still very shy, he's come a LONG way. He's getting more and more curious, coming up to the doors of the cage, and approaching me.Today I had everyone out in the bathroom, and they all came up to me, sniffing around. Kalven went right up on my shoulder and hung out there for the whole time. Hudson comes when he's called, and he was climbing all over me and playing with Kalven. The other boys were all off exploring the bathroom. Then my sister sneezed in the other room, and Harry runs over to the door and stands up. He was very concerned. It was cute. But they all let me pick them up and put them back in their cage without a fight.

So I just wanted to let you know how they're coming along, and how they're doing. They are all GREAT rats. By the way..I changed their diet, too..which they are LOVING. It's the molasses mix from debbie ducconum's RATS book. and so they're getting that mix plus fruits and veggies everyday..and oysters twice a week...They love it.

-Ashley